China to develop cooperation with Trinidad and Tobago
Date: 09:27, 16-05-2018.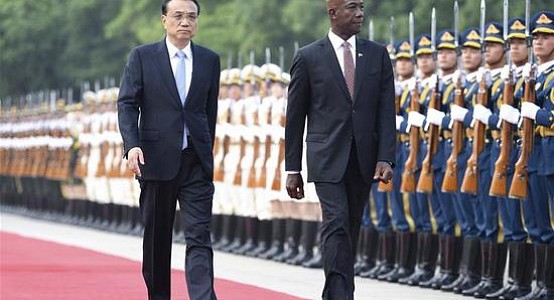 Beijing. May 16. Silkroadnews - Premier of the State Council of the People's Republic of China Li Keqiang held negotiations with the Prime Minister of Trinidad and Tobago Keith Rowley, who arrived in China on an official visit, SINA news portal reported.
Li Keqiang noted that Trinidad and Tobago is one of the first states in the Caribbean region to establish diplomatic relations with China, as well as China's largest trading partner in the English-speaking Caribbean sector, the economies of both states are characterized by strong complementarity, and implies broad prospects for cooperation.
"China is willing to link the Belt and Road Initiative with the development strategies of Trinidad and Tobago to enhance cooperation in areas including infrastructure construction, energy, finance and agriculture," the agency quoted Li saying.
Li Keqiang also said he hoped that Trinidad and Tobago will continue to play a constructive role in to promote the development of China's relations with Latin America and the Caribbean.
In his turn K. Rowley stressed that Trinidad and Tobago strongly supports the one-China policy, counts on further strengthening the political foundation of the relations between two countries, strengthening practical cooperation, implementing joint development. He thanked the Chinese side for the strong support of Trinidad and Tobago over the years. Trinidad and Tobago intends to further strengthen practical cooperation with the Chinese side in such areas as the Belt and Road initiative, medicine, healthcare, finance, to bring bilateral relations to new heights.