China-US trade agreement will not affect European imports, experts say
Date: 09:49, 24-05-2018.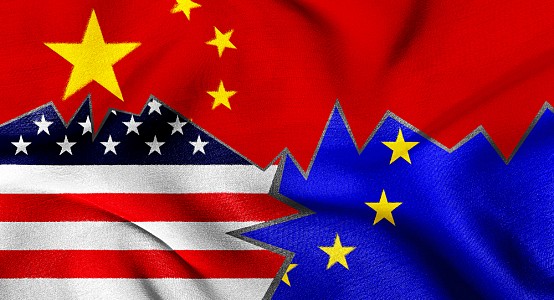 Beijing. May 24. Silkroadnews - Trade agreement reached between China and the United States has caused concerns among some of China's European trading partners, the Global Times reported.
China, striving to further open its market for foreign goods and services, offers abundant opportunities for all its trading partners selling competitive products, Chinese experts say.
After the announcement of a trade cease-fire by both China's and US's officials, which includes China's promise to increase imports from the US, some European officials warned such a deal could hurt Europe.
The German newspaper Süddeutsche Zeitung reported that China's promise to buy more American goods could mean a decline in demand for German products.
"The US and China risk entering an agreement at the expense of Europe if Europe is incapable of showing a firm hand," said French Economy Minister Bruno Le Maire.
Chantal Hughes, a spokesperson for the French Ministry for the Economy and Finance, said that though the ministry does not comment on the potential agreement between China and the US, it strongly recommends that any attempt to reduce the US trade deficit should be undertaken with "respect for international rules."
According to Wang Jun, deputy director of the Department of Information at the China Center for International Economic Exchanges, European officials react too sharply to the agreement.
There could be some impact, but there is no need to exaggerate, Wang said, noting that China's plan to increase imports of agricultural and energy products from the US "has little impact" on European countries.
"China doesn't buy much European pork or soybeans anyway."
With regard to agricultural and energy products, South America and the Middle East could be affected in case China starts buying more of such products from the United States, Wang said.
The deal between China and the US does not mean that the Chinese market will be closed to other trading partners, the agency cited Chen Fengying, an expert at the China Institutes of Contemporary International Relations.
"China's demand for foreign goods is huge and still growing at a very fast pace, so the 'cake' is big enough to share," Chen is quoted saying.
Experts noted, in recent years China has strengthened trade relations with many countries and regions, including the EU. Several free trade agreements have already been signed, and an agreement with the US will not change this trend.
"I think these countries need not worry about the deal between China and the US. They should instead focus on how to make their products and services more competitive," Wang said.